LEARN JEWELLERY DESIGNING


EXPLORE the existing opportunities
START A BUSINESS in the Jewellery Industry
Be a part of JK Diamond Institute's profound network of jewellers and outrank the competition in the jewelry market!
Bring imaginations to life by learning jewelry designing
CAD & Manual courses available! Opt for either or both.
Do you want to create distinctive jewelry designs by hand?

About the course:
Sketching an idea on paper seems quite manageable. However, the skill sets demanded from a professional jewelry designer include good communication skills, visual imagination, an eye for detail, adequate knowledge of past and present market trends, creativity, and the knowledge of different metals, gems and manufacturing . A manual jewelry designing course trains students to meet these industry-level requirements.
Course Offerings:
100% Practical training
Trainers with a jewelry background
Self-paced learning
Individual assitance
Create a unique portfolio

Opportunities
Jewelry Consultant
Jewelry Designer
Freelancer Jewellery Designing Business
Merchandiser
Jewelry Manufacturer
PD Executive
Arts and Cultural Jobs
Fashion Accessory
Research

Want to create astonishing jewelry designs using cad software?
About the course:
Using CAD, you can transform your jewellery design ideas into 2D or 3D models by providing effects, textures, depth, colors etc. Jewelry designers are using this technology globally to create designs that are accurate, complex, and easy to modify.
Course Offerings:
100% Practical training
Trainers with a jewelry background
Self-paced learning
Individual assistance
Create a unique portfolio
Opportunities:
Jewellery Designer
Jewellery Merchandiser
Jewellery Business Owner
Jewellery Exhibition Manager
Jewellery Production Manager
Students from across the world
Placements in various organisations

Jewelry Designing Manual - $ 2000 ie. Rs. 150000
Jewelry Designing CAD (Rhino) - $ 750 ie. Rs. 55000
Jewelry Designing CAD (Matrix) - $900 ie. Rs. 65000
Know what's best for you by consulting team JK
Book a free course consultation
WE WILL GUIDE YOU THROUGH THE COURSE AND BEYOND
We will help you launch your own jewelry business or start your own freelance business
Jewelry Designed by JK Students
Jewelry Designing CAD (Rhino/Matrix)
The Jewelry designing course opens arrays of opportunities
Jewelry Designer
Jewelry Merchandiser
Jewelry Business Owner
Jewelry Exhibition Manager
Jewelry Production Manager
Jewelry CAD Technician
Research Specialists
Art & Cultural jobs
And much more!
Wandering in search of the best jewelry designing course? Come to JK Diamonds Institute!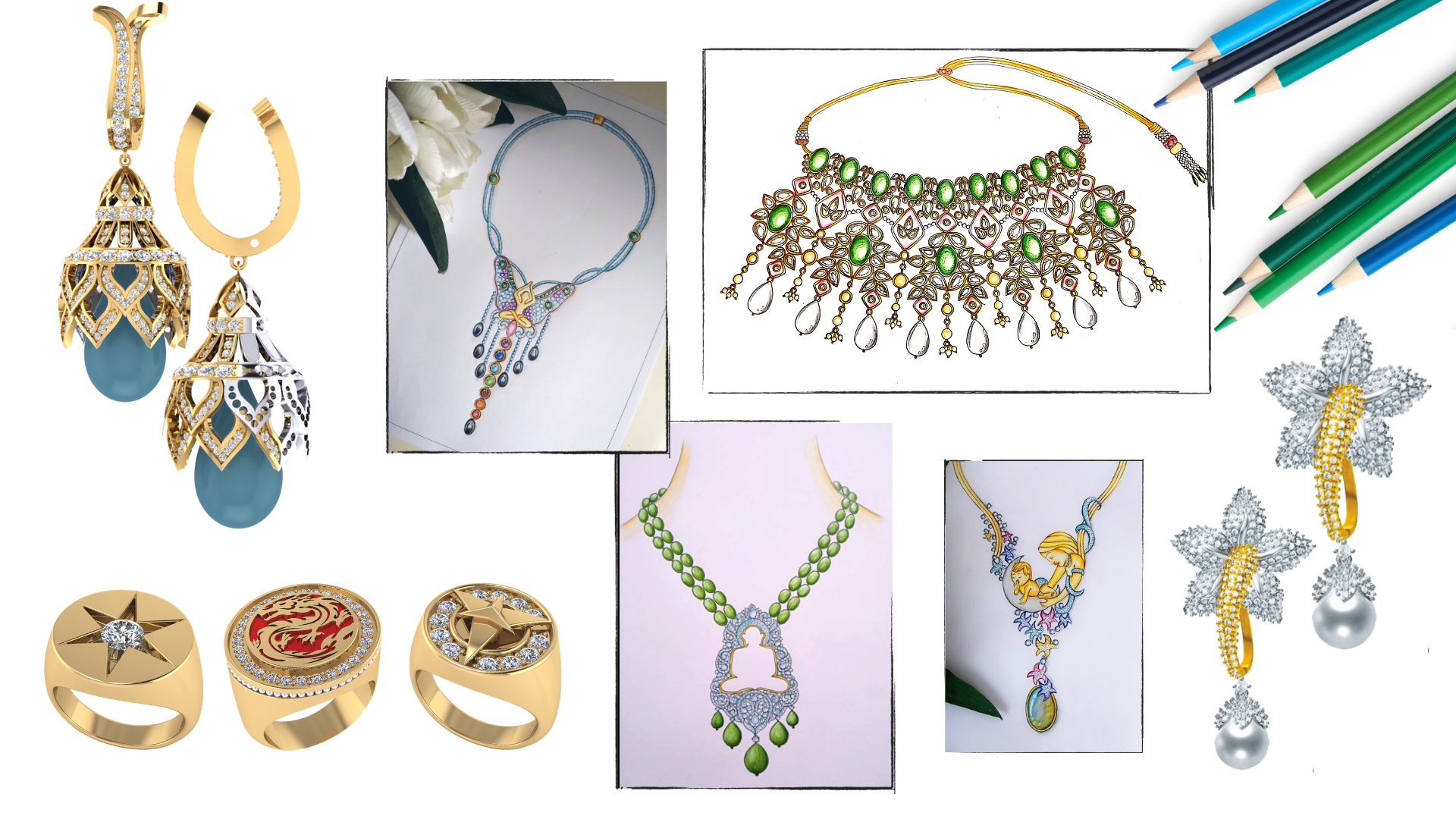 Legacy of 32 years in training for the jewelry industry
100% Practical market based training in jewelry designing
Master the fundamentals of jewelry designing with this extensive jewelry design curriculum
Create a unique portfolio of jewelry designs covering domestic as well as international markets and cover all forms of jewelry
Launch your own jewelry freelancing business, or help you start or diversify your own jewelry retail or ecommerce business, or even setup a jewelry manufacturing base
The Learnathon platform enables you to connect with the right network of relevant suppliers, manufacturers, freelancers that you may need to scale your business
Extensive research reports on various export markets in case you wish to become a Jewelry exporter
Industrial visits to learn practically from jewelry manufacturers and reputed jewelry designers
The best jewelry designers got trained
at JK Diamonds Institute
HVK Internation (DTC Sight Holder), Mumbai


I am glad I joined J K Diamonds as I got the opportunity to learn with an authorised licensed softwere. Hence received full exposure to learn all the tools and features as compared to others. Professor was extremely kind and cleared all our doubts with great ease. Worthwhile learning experience.
"I completed my Jewelry Design Graduate (Manual) from J K Diamonds Institute and it was a great experience and received immense knowledge. Within two days of completing the course I received a job opportunity at Tanishq at above par salary."
Popley & Sons, Garner Bears


My experience with J. K. Diamond Institute was very enriching. Faculty's 100% personal attention while training me with diamonds in my early years in trade was very encouraging & has helped me in building my foundation. I would like to wish you the very best.
World-class gems & jewelry education is
accessible all across the globe.
OUR ESTEEMED ALUMNI (OWNERS)
Learn at our fully-equipped classrooms or online on our e-learning platform Learnathon, which makes online learning effective and comfortable.
You're only
ONE CLICK

away from starting an exceptional career in the jewelry industry.

to schedule an appointment with us for further guidance.