Procreate Jewelry Design Course

Get ready to embark on an enchanting journey where creativity meets artistic innovation, through our jewelry design online course guided by the magical touch of Procreate.
What is Procreate?
Procreate is a powerful digital illustration and painting app designed exclusively for iOS devices. It has become the go-to application for artists, illustrators, and designers worldwide. Procreate's intuitive interface, impressive brush library, and advanced features make it an ideal choice for anyone looking to create stunning digital artwork.

J K Diamonds Institute of Gems and Jewelry in collaboration with Learnathon brings you an exciting opportunity through our Procreate Jewelry Design Course. Explore this cutting-edge tool for jewelry design, get 100% practical training with the help of our jewelry design online course & unleash your artistic flair!

Procreate for jewelry designing
Elevate Your Jewelry Design with our Procreate Jewelry Design course!

In the ever-evolving world of jewelry design, staying ahead of the curve is vital. Procreate, a powerful digital design tool, has become the secret weapon of modern jewelry designers. At Learnathon, we understand the importance of innovation in this industry.

Procreate is the ultimate tool for unlocking your creative potential in the world of gems and jewelry design. With J K Diamonds Institute &Learnathon as your guide, you can harness the power of Procreate to craft breathtaking jewelry creations that leave a lasting impression. Join our Procreate Jewelry Design course, Today!

Course in collaboration with


Ali Asadi
I am Ali Asadi from Afghanistan and one of the JK students. I came to India for Rhino and Matrix professional course and my experience was great since the faculty was very knowledgeable and environment was excellent. They are the leaders in licensed training for both the software. I was lucky to have such superb mentors. Please note for batch please book in advance since their batch is always full. Also if you are going for Cad I suggest to learn rhino and matrix both since Matrix is vast and especially saves time and best with rendering. I saw students doing a fantastic job at JK.
Priyanka Koradia
I am glad I joined J K Diamonds as I got the opportunity to learn with an authorised licensed softwere. Hence received full exposure to learn all the tools and features as compared to others. Professor was extremely kind and cleared all our doubts with great ease. Worthwhile learning experience.
Cheryl Mark Utankar
"I completed my Jewelry Design Graduate from J K Diamonds Institute and it was a great experience and received immense knowledge. Within two days of completing the course I received a job opportunity at Tanishq at above par salary."
Divya Jain
Alumni of J K Diamonds Institute of Gems & Jewelry
Anushka Vishvas
Alumni of J K Diamonds Institute of Gems & Jewelry
Elevate Your Jewelry Designing skills with the
Procreate Jewelry Design course:

Beyond Sketching to Expertise
Welcome to the world of limitless creativity and innovation
Expert Faculty Fusion:
Learn from a fusion of experienced jewelry designers and digital art experts. Our instructors guide you towards creating breathtaking jewelry designs using Procreate.
Holistic Curriculum:
Our curriculum doesn't just focus on the technical aspects of Procreate; it also dives deep into gemology, helping you understand how to integrate precious gems seamlessly into your designs, making them truly enchanting.
Real-world Industry Exposure:
As part of the J K Diamonds family, you gain access to valuable industry connections and opportunities to showcase your designs at prestigious exhibitions, setting the stage for a sparkling career.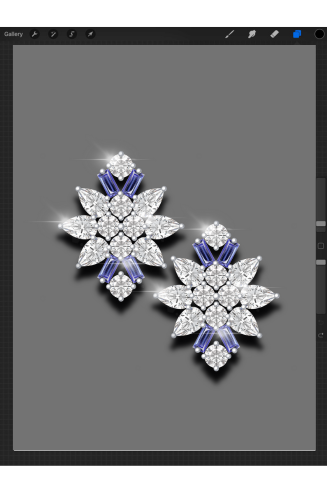 Digital Transformation:
Embrace the digital age and harness the power of Procreate jewelry design online course to create intricate designs with unparalleled precision. Gain skills that are highly relevant in today's technologically advanced jewelry industry.
Portfolio Power:
You'll have the chance to build an impressive portfolio that highlights your Procreate prowess and jewelry designing finesse, opening doors to freelance projects, commissions, and more.

Pathway to Entrepreneurship:
Beyond employment opportunities, our
Procreate jewelry design course
equips you with the knowledge and confidence to start your own jewelry line, turning your creative passion into a thriving business venture.
Join Procreate Jewelry Design course at Learnathon
Your Future Awaits:
The world of jewelry design is evolving, and with Procreate expertise, you hold the key to unlocking a future brimming with innovation, creativity, and endless opportunities. J K Diamonds Institute of Gems and Jewelry through Learnathon offers you not just a Procreate Jewelry Design course but a passport to a world of career opportunities where Procreate is your creative catalyst.
Placements in various organisations
OUR ESTEEMED ALUMNI (OWNERS)
World-class gems & jewelry education is
accessible all across the globe.
Module 1: Metal Rendering
In this module, students will learn the art of rendering metal surfaces in digital jewelry design. This includes creating realistic tube surfaces, cone surfaces, and flat surfaces commonly used in jewelry.
Module 2: Types of Settings
This module covers the various types of settings used in jewelry, such as prong settings, bezel settings, channel settings, and more. Students will understand the importance of choosing the right setting for different gemstones and design styles.

Module 3: Diamond, Gems, and Jewelry Brushes
Here, students will explore a collection of digital brushes tailored specifically for diamonds, gemstones, and jewelry design. They will learn how to apply textures and create realistic gemstone effects.
Module 4: Earrings
This module focuses on designing earrings, a fundamental component of jewelry. Students will learn to create diverse earring designs, including studs, drops, hoops, and dangles.

Module 5: Pendants
Pendants are versatile and popular jewelry pieces. This module will teach students how to design unique pendant pieces that can accommodate different gemstones and design concepts.

Module 6: Rings
Rings are a jewelry staple. In this module, students will master the art of designing rings, from engagement rings to fashion rings, and explore various band styles and settings.

Module 7: Colored Stones
Colored gemstones add vibrancy to jewelry. This module delves into the world of colored stones, helping students incorporate them effectively into their designs.
Module 8: Diamonds
Diamonds are a jewelry designer's best friend. This module will provide an in-depth understanding of diamond selection, placement, and the intricate detailing required for diamond-studded jewelry.

Module 9: Kundan Jewelry
Kundan is a traditional Indian jewelry style known for its elaborate settings. This module introduces students to Kundan jewelry design techniques and cultural significance.

Module 10: 3D View
The 3D view module will teach students how to transform their 2D designs into 3D representations, enabling them to visualize jewelry pieces from all angles.

Module 11: Estimation of Jewelry
In this final module, students will learn how to estimate the cost and materials required for their jewelry designs. This practical knowledge is essential for creating market-ready designs.

Watch. Learn. Improve.
This comprehensive curriculum sets your procreate jewelry design course apart by offering not only software proficiency but also a deep understanding of jewelry design principles, market awareness, and technical expertise. Students will graduate with the skills needed to produce error-free designs and make informed decisions in the world of jewelry design and manufacturing.
Embark on a Journey of Limitless Career Opportunities After Completing Our Procreate Jewelry Design Course:
Jewelry Consultant
Jewelry Designer
Freelance Jewelry Designing Business
Merchandiser
Jewelry Manufacturer
PD Executive
Arts & Cultural Jobs
Fashion Accessory Designer
Researcher
Enroll Now in the Procreate Jewelry Design course to Shape Your Dazzling Future!