DIGITA
L LUXURY B
RANDING: SU
RVEY ANALYSIS
NOVEMBER 23
/
NAMAN AJMERA
J K Diamonds Institute of Gems & Jewelry in collaboration with Learnathon conducted a survey among its students and related groups to understand the luxury brand's as well as the end user customer's mindset in relation to luxury products and services. Digging deeper gave us some great insights:
GENDER RATIO: AGAINST THE ODDS


When it comes to being active digitally pertaining to the luxury industry, Women are more inclined to participate digitally following luxury brands online as compared to men.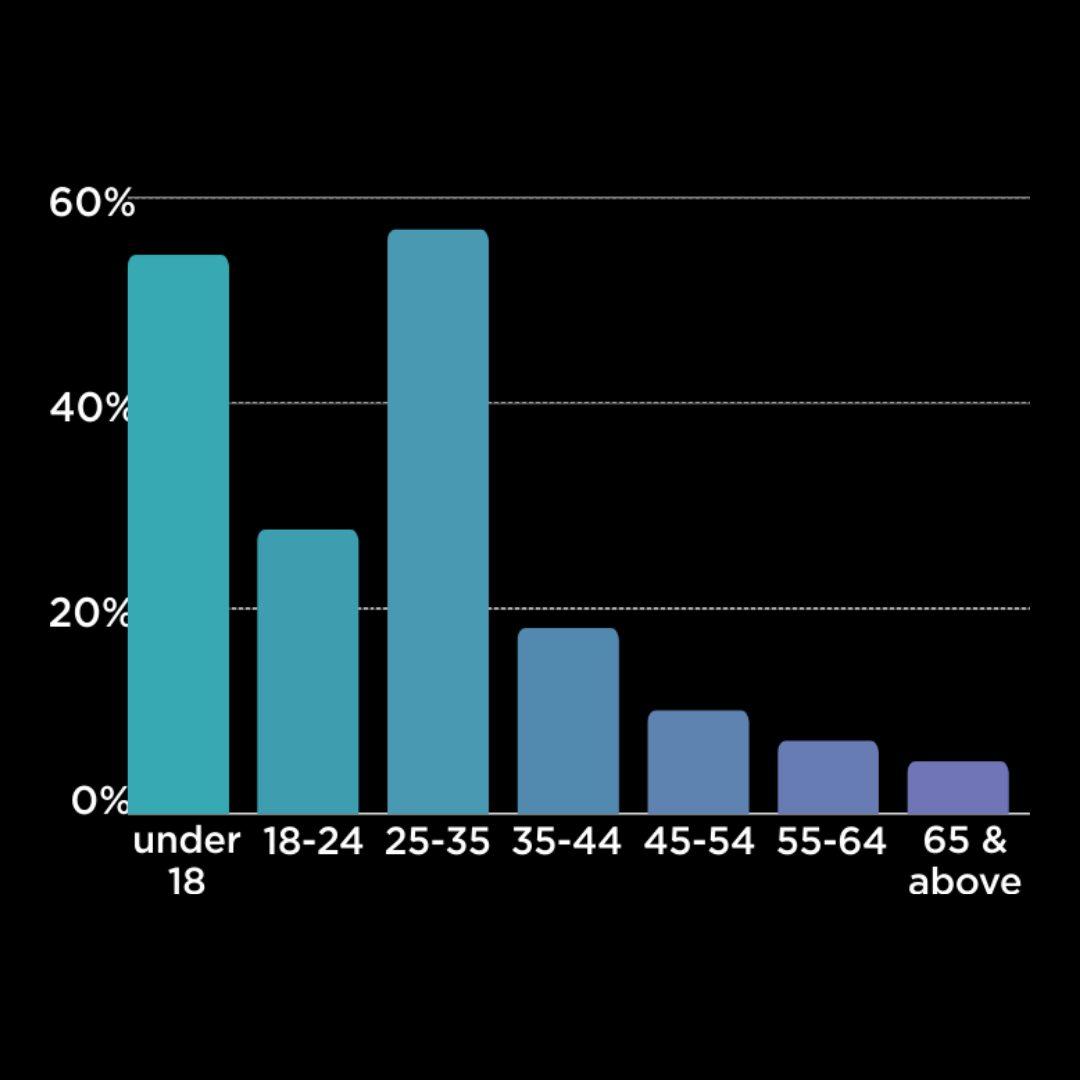 MILLENNIALS AND GEN Z
The participants were majorly the younger generation with almost 56% between the age of 25-34 while 28% between 18- 24 years. Clearly shows the digital savviness of the age group to participate and adapt to tech based environment.
INSTAGRAM IS TAKING OVER THE WORLD
While majority of the respondents answered that they own and follow luxury brands on social media platforms, what is interesting to note that more than 84% follow luxury brands on Instagram while only about 46% of them follow Facebook. Other popular apps were Youtube and Pinterest.
It would be prudent to take note of Tiktok, the fastest growing social media platform. Our team was in two minds to even consider it seriously as a social media platform, thinking it may not be a platform where users would follow a luxury brand. However, during the course of our research we found three top brands collaborating with Tiktok: Louis Vuitton, Ferrari and Marvel!


These brands may well become the trendsetters in accepting new platforms for brand awareness. The reason is simple, Tiktok holds potential for awareness among the future buyers and influencers.
SHOWCASING YOUR BRAND ON DIGITAL CHANNELS
What do customers want to see about your luxury brand? Take a look in order of preference:
Interesting updates and news about the brand, its products and upcoming events (79%)
Formal advertising campaign images/videos, fashion shows etc. (50%)
Behind-the-scenes photos/videos & introducing relevant people behind the brand etc. (48%)
Ability to interact with the brand / other users (reviews, customer service, general discussion etc.) (48%)
Direct opportunity to shop products featured in the posts – For example, Instagram's latest Shoppable posts feature (43%)
User generated content (content created & provided by the brand's audience) for more authentic experience (26%) – For example, Apple's Shot on iPhone are photos clicked by iPhone users and promoted internationally by Apple.
Contests and giveaways surprisingly had quite low engagement with only about 27% respondents preferring it as compared to other content. This shows that offers, discounts from Luxury Brands may be effective only temporarily.
Based on our research says that the consumption of Video content is growing massively and the average minutes per day of video is increasing rapidly.
However, when it comes to luxury brands, consumers prefer aesthetic images over videos.
A professional photographic shoot can entice customers to purchase the brand's product, while suitable video content is capable of spreading brand awareness and most social media platforms are encouraging such content.

Textual content is hardly used by Luxury brands as it is least appealing to a customer, unless in the form of a relatable meme.
DIGITAL PRESENCE ENHANCING BRAND VALUE?
In our research we gave the respondents few thought provoking statements and asked them whether they agreed to them. Check out their response:


64% of the respondents felt that digital presence makes them trust the brand more and increases brand loyalty.
A

whopping 98% said that the visibility of brand's products, events and launches across digital and social media channels creates a stronger desire to buy the brand's products



Negative

reviews of the products or the brand on social media adversely affects the purchasing decisions of 84% of the respondents. Hence Social prudence is very important and brands need to ensure adequate Online Reputation Management (ORM)
DIGITAL ENVIRONMENT AND THE RETAIL CONNECTION
Nearly 43% of the respondents agreed that digital presence is capable of increasing retail footfalls and increasing brand's sales. While 38% remained neutral about the digital presence facilitating the brands turnover.
However, the connection is growing stronger between the two worlds and a strong 76% of the respondents said brands need to invest in understanding the digital environment and increase their efforts in adapting the same.
WHERE ARE LUXURY BRANDS GOING WRONG?
Our team dived in deeper to get you some insights about where customers think Luxury brands are going wrong when it comes to joining the digital revolution. The factors have been noted below:
WHERE ARE LUXURY BRANDS GOING WRONG?
Lack of content

generation to showcase prospective customers/followers.

Brands need to come up with innovative ideas to engage with their audience online.



Inability to showcase consistency in brand values. This is seen often where most of the brands have a good launch on digital platforms initially. However, results in the digital environment require tons of patience and consistency. Most brands fall out within 6 months expecting results too quickly and eventually affecting consistency of their digital presence.


Lack of

knowledge.

The inability of luxury brands to learn about new and disruptive digital ecosystem would affect their branding strategies in the long run. Brands need to catch the trends before they are adapted by other players. Not just the fast changing trends but they also need to analyse changing algorithms and how they can affect the brand's digital activities.
We hope these thought provoking insights added value in understanding the digital revolution and customer's changing landscape. At best, these changes are in fact an opportunity and can help the brands adapt and gain more traction. Realising this is half the battle won.