3D printing and its applications
We bet Mr. Hideo Kodama had no idea how his 3D printing experiment and innovation would evolve and transform the whole world of manufacturing. Back in the 1980's, the Japanese inventor used ultraviolet light to harden polymers and a solid object was formed out of this project. That endeavour was a tiny stepping stone to stereolithography which was later born out of Mr. Charles Hull's sheer frustration.
Yes! Hull was working for a company that made tough coatings for tabletops and furniture. He was frustrated about the fact that the production of small plastic parts for prototyping new product designs took way too much time. And like most inventions, stereolithography (SLA) was invented out of frustration.
As a little 8 year old boy, Carl Deckhard envisioned himself as an inventor at his visit to the Henry Ford Museum. While he was pursuing mechanical engineering at the University of Texas, his summer project led him to ideate and create an incredible 3D printing technology: Selective Laser Sintering (SLS). If only everyone starts taking summer projects seriously!
Scott Crump loved his 2-year old daughter immensely! And he wanted to make a toy froggy for her. So, he began by using candle wax, plastic (polythene) and a hot glue gun to create a 3D object, in the kitchen. But here's the thing- you could be Albert Einstein, but a wife will never allow you to ruin her kitchen with your experiments. Hence, he shifted his experiment to a garage where the Fused Deposition Modelling technology was born! Scott's wife not only encouraged him to turn his passion into business but also supported him and co-founded the company- Stratasys in 1992.
Well, this is a synopsis of how the three game-changer 3D printing technologies were born in less than a decade! However, the birth of this technology changed the face of the manufacturing business all around the world. Today, the scope of 3D printing is limitless and its applications in various industries will blow your mind.
Aerospace and Defense Industry:
The earliest adopters of 3D Printing are the Aerospace and Defense Industry. Their first experiment with this technology dated back in 1989. The developments in the aerospace & defense industry using additive manufacturing techniques is largely contributed by the key players of the industry. Companies like GE, Airbus, Boeing, Safran, GKN and others have identified the value proposition 3D printing brings to creating functional prototypes, tooling, and lightweight components. The scope of 3D printing in this industry is not limited to creation of prototypes.
In the aerospace and defense industry- complex parts are produced in low volumes. Therefore, 3D printing is an ideal form of manufacturing for this industry. Production of lightweight parts with limitless complexities for aircrafts and reducing material wastage is possible in this form of manufacturing.
The main application of 3D printing in the automotive industry is prototyping. However, research and experimentation is in progress to use this form of manufacturing for tooling as well. Have you ever heard of Urbee?
This is Urbee, a hybrid car. Although it looks like a bean, this car can run hundreds of miles to a gallon. It is the greenest car on the planet and was produced by Kor Ecologic. Urbee's entire body and majority of parts have been made via 3D Printing.
You see how 3D printing can bring imaginations to life?
The benefit of prototyping parts is that it accelerates the product development process. One can easily test and validate parts before manufacturing it. Thus, reducing risks and optimising the production process. 3D printing enables designers to make quick design changes and modifications in a fraction of the time. This technology allows producers to create personalised and customised parts for the interior and exterior of the vehicle. With the majority of car components requiring complex geometries like internal channels (for conformal cooling), thin walls and fine meshes, AM enables highly complex parts to be produced that are still lightweight and durable.
Medical & Dental Industry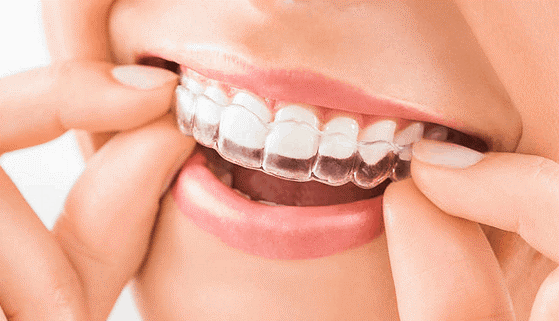 The fastest-growing adopters of 3D Printing is the medical and dental industry. The professionals in this field believe that this technology will continue to innovate and transform the face of dentistry. The applications of additive manufacturing for the medical industry are versatile and wide-ranging- from medical devices to prosthetics and even bioprinting!
The benefit of 3D printing in the Medical and Dental Industry is that it can provide personalised patient care, cost effectively. One can create customised and complex designs of medical devices. Medical device manufacturers can produce faster and efficiently with the help of 3D printing technology. The medical industry can leverage the capabilities of 3D printing to create patient-specific devices. For example, devices such as prosthetics and implants can be produced faster and more affordably than with traditional manufacturing methods.
Clear aligners & digital dentistry:
3D Printed clear aligner moulds are used to produce the majority of these aligners. The key reason for using 3D printing in manufacturing clear aligners is the ability to customise them cost-effectively, since clear aligners are inherently individualised products.
By combining intraoral scanning and 3D printing, dental labs can create dental products like crowns, bridges and bite splints that perfectly match a patient's anatomy. Surgical tools and guides can be produced faster at lower-costs using this technology.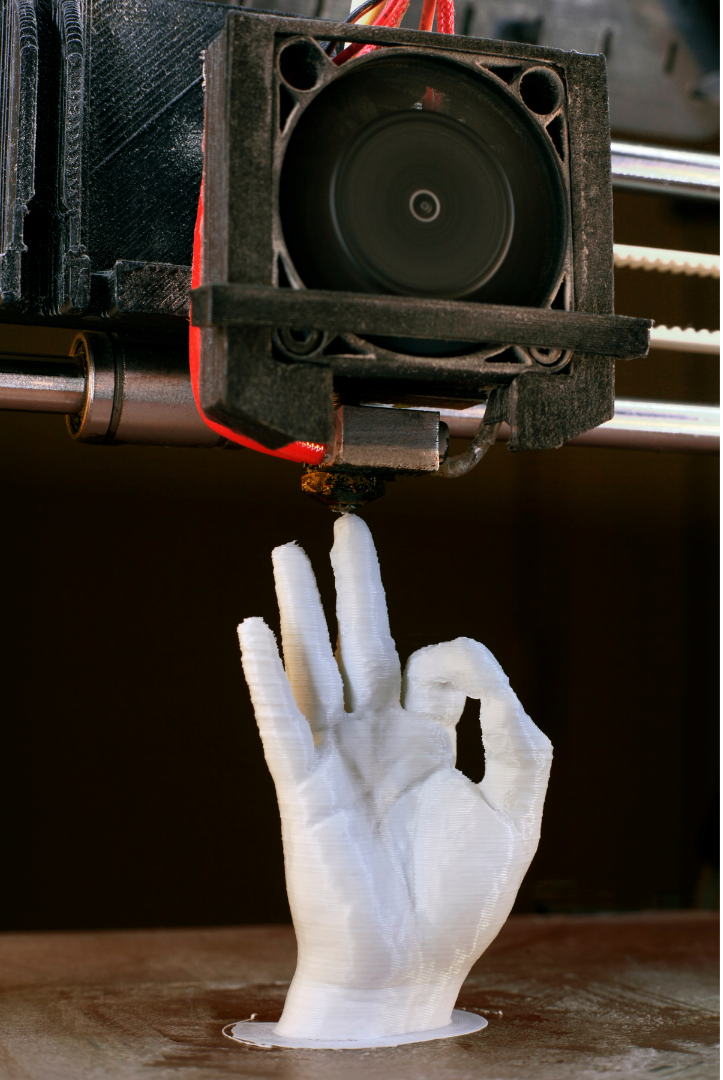 Certified biocompatible plastic or metal (e.g. titanium) materials is used to create custom prosthetics and orthopaedic devices using the 3D Printing technology.
When it comes to implants, 3D printing is currently being used to create hip and knee joint replacements, cranial reconstruction implants and spinal implants.
In one example, a mountaineer needing a hip replacement, received Lima Corporate's hip implant featuring a 3D-printed acetabular cup. Thanks to 3D printing, it was possible to produce a cup that mimics the porous structure of natural bone, improving osseointegration, a process which allows an implant to become a permanent part of the body.
Ultimately, the patient was able to walk and climb again just after two and a half months after the implantation.
Electronic devices, toys, sports equipment, etc. can be manufactured by using 3D printing technology. To keep up with the evolving consumer demands and the dynamic nature of industrial trends, this technology has proven beneficial. Retailers and manufacturers can have an edge over the competitors' business by using the innovative tools and techniques of 3D Printing and providing customisation options to their customers..
3D Printed footwear is a good way to try out new materials, designs and a whole new manufacturing process. It opens up new opportunities and possibilities to innovate. Brands are making custom designs for their customers as they are offering different models from slides and sneakers for men and women, to wedges with a lattice design.
Indeed, 3D printing is a great way to get shoes perfectly adapted to your feet. Big brands are partnering with major actors of Additive Manufacturing such as HP, and are including the 3D printing process in the production of some of their models. 3D printed shoes, thanks to brands like Nike or Adidas are now entering the mass production era.
Currently, when it comes to 3D printed wearable clothing, the current practices are mostly limited to art pieces or haute couture for major fashion designers.
3D Printing in fashion is an interesting avenue for designers and artists who are interested in creating complex geometric designs and wearable art. However, many of these designs are not really wearable in day-to-day life
Innovations and new techniques are being developed every day, but on the mainstream level- 3D Printed fashion is still growing. We expect to see this side of 3D printed fashion expand over the next few years.
In a more day-to-day application, 3D printing in fashion is used to create accessories, build prototypes and manufacturing tools, boost sustainability and expand customisation options.
Instead of full clothing items, 3D printers in fashion are used to supplement parts of a whole design, like embellishments, accessories, and buttons.
3D printing is now used to create the patterns for investment casting and to print jewellery directly. Instead of metal printers, jewellers use wax here, that is, the piece of jewellery is printed or sculpted out of wax. With the help of Computer Aided Designing (CAD), manufacturers are able to 3D print moulds and master patterns for jewellery, which are then cast in precious metal to create intricate masterpieces of art.
One of the most profound ways in which 3D printing has impacted the jewellery sector is as a method for prototyping and tooling. 3D printing is used to create the primary model or a direct wax pattern from which to achieve a rubber or silicone mould. These applications have seen huge developments in many areas of the jewellery sector, eliminating some of the most time-consuming steps of the traditional process.
3D printing can be highly beneficial to this changing industry, since the technology enables jewellers, manufacturers, and designers to test with patterns, colours, and designs, which, in the past, was a more time-consuming process.
Yes, the printed food is absolutely consumable.
3D printing usage comes with its own set of advantages:
Allows food customization according to the choice, as the 3D printer can help determine the exact quantity of vitamins, carbohydrates, and fatty acids as per the input and assess the correct percentage of nutrients for a particular age.
3D printing saves both time and energy when it comes to experimenting with different types of food dishes. It also helps in achieving perfection with less effort and less time.
The use of the food printing technique enforces innovation and creativity. Users can create dishes in entirely new ways by customizing ingredients. In addition, users of 3D printing can modify composition or amalgamate two products to produce an innovative dish.
Food reproducibility is possible using 3D printing. Using the same set of ingredients to produce a similar dish again eventually drives the minimization of food waste.


Want to upscale your bakery business? 3D Printing is the way to go.
The best gifts are those that you won't find on the shelves of ordinary gift stores. Many companies and organisations believe in giving personalized gifts that are unique and memorable. With the advent of 3D printing technology, you can turn any idea into a 3D design and consequently create a product without the hassles of a mold or a dye easily and very quickly. You can broaden the scope of your creativity in gifting.
With 3D printing, one can customise mementos, trophies/souvenirs, branded gifts, personalised 3D printed gifts, product showcases, etc.
When the present state of this industry is so strong, the future looks brighter than ever. 3D printing has changed the way production happens and it is the future of the manufacturing industry. If you want to be a part of the manufacturing industry or scale up your business, you must master the art & science of 3D Printing.